DOLOMITI, FOLGARIDA, ITALY
PORSCHE CLUB'S ALPETUR
ABOUT THE TOUR
An experience of a lifetime
Driving your Porsche in the Alps is more than just the thrill of pressing the pedal and turning the wheel to feel the acceleration and the curve, it's about feeling and enjoying life. The clear sky above, the smell of the mountains mixing with the sweet smell of burned fuel, the window down, wind rushing by — it's that special feeling we crave when the Porsche club sets off on our yearly trip to the Italian Alps.
But it's not just the driving that keeps us coming back, it's also everything in between. When you get to indulge in everything from delicious gourmet dinners to ice-cooled spumante, when you and your fellow Porsche enthusiasts get to park in the middle of a century old village square to enjoy the excitement of the people around you — that's when you know you're coming back again… and again…
Schedule of Events
Program for Alpetur 2019
The program for Alpetur 2019 is planned from the 07th - 14th Sep 2019
We are pleased to welcome you to the 11th Alpetur. And without exception another Alpetur, which offers fantastic nature experiences and not least fantastic driving pleasure.
Again this year we will drive new destinations in the Dolomites and see some of the most beautiful of Italy.
Saturday we meet at Hotel Caminetto in Folgarida, where we will be informed of the next day's Dimaro-Folgarida Hill Climb Parade and Rally.
From Monday we start a fantastic week where we will drive along Lake Garda, Passo dello Stelvio, Passo Duron, Caprino Spiazzi special Stage, Merano-Trauttmansdorf and of course there will also be good culinary experiences.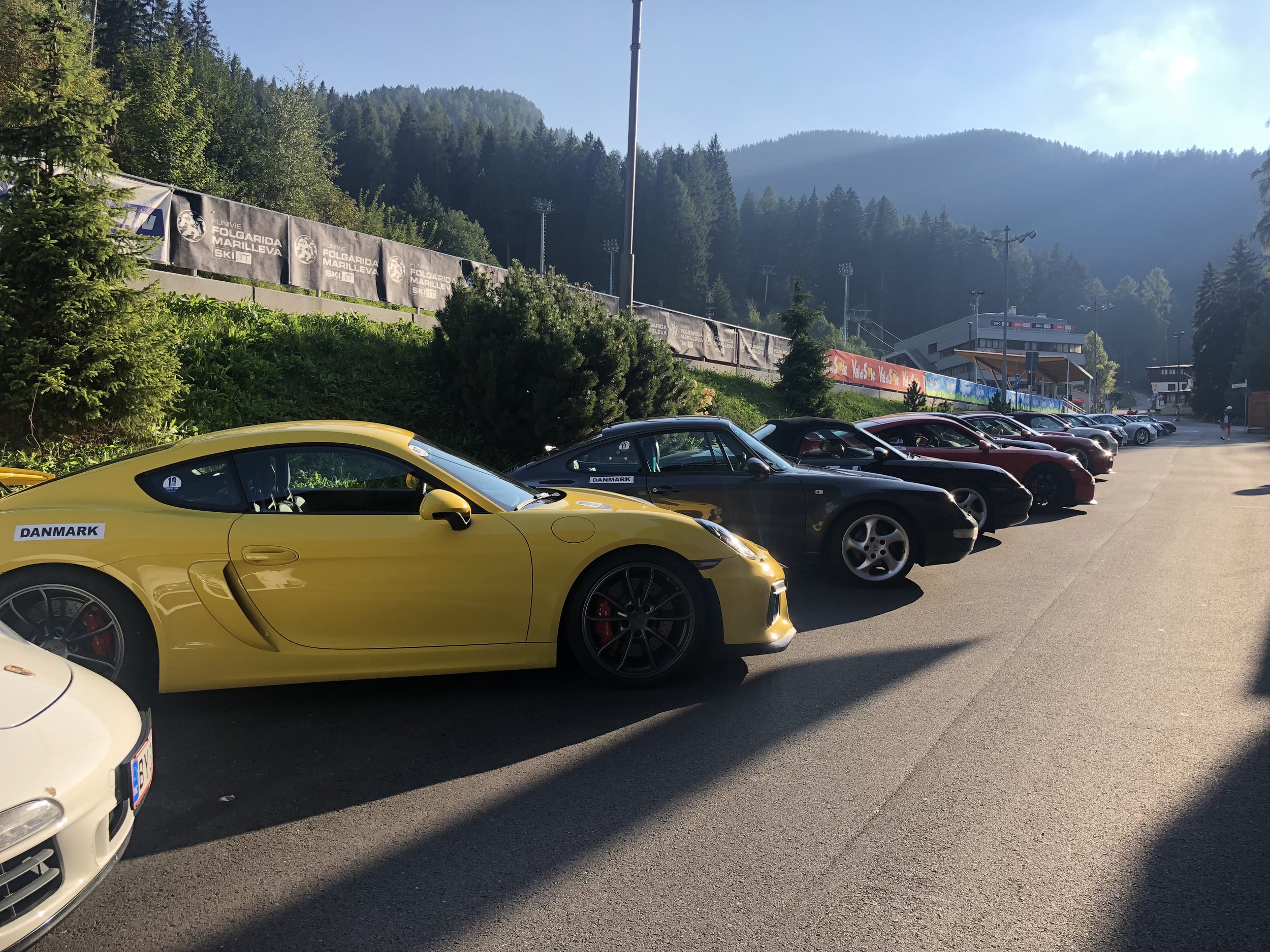 Here is an overview of our wonderful sponsors who helps us achieve this amazing trip
SPUMANTE
FERRARI TRENTO
Experience the best of Italy's summer with the elegance and freshness of Ferrari's sparkling wines.
ACCOMMODATION
HOTEL CAMINETTO
Located in Folgarida in Val di Sole, a hotel with a wellness center in the heart of Trentino.
tourist organisation
VAL DI SOLE
In addition to incredible beauty, Val di Sole offers a variety of fun and exciting activities for everyone.
Province of Trento
TRENTINO
Here, one beautiful route replaces the other, and there is a good opportunity to explore nature.
APPAREL
ILSE JACOBSEN HORNBÆK
The lifestyle universe incorporates rainwear, sophisticated womenswear as well as refined footwear and accessories.
PASTA
MONOGRANO FELICETTI
Their dedication to organic, sustainable farming methods produces artisan pasta using traditional methods.
TIRES / MOTORSPORT
MICHELIN
Michelin offers an impressive line of tires for passenger, performance, touring, light truck/SUV, and winter applications.
MOTORSPORT CLUB
PORSCHE CLUB DANMARK
PCD is recognized by PORSCHE AG, SMC and is part of a global network of Porsche clubs. We arrange car events for every type of driver.
Wide meadows, mainly of agricultural use and gazing grounds, characterise the intact landscape. The locality comprises Folgarida Alta, which is above all amazing due to the panoramic view on the Dolomites, as well as Folgarida Bassa, embedded in the striking landscape of the Val di Sole valley.
It all started on a cold but sunny day, while Tasos was skiing in the Italian Alps with his family and friends. Being a Porsche enthusiast is very difficult to hide, so it didn't take very long before Tasos and his two Italian friends, Gianni and Marco, discovered that they were sharing the same passion. It took a few years before all the details were in place, but in summer 2009 they could finally announce their plans for the very first Alpetur.
Founders of the Alpetur:
Tasos Tsiotas
Gianni Battaiola
Marco Katzemberger
If you find this tour interesting and want to join, then please sign up here!
Please note that you need to be a Porsche Club member to participate.